Style 08 - MX jersey ID printing (name + number)
Please check your information before purchasing. Printed jerseys cannot be returned!


At V1mx we now offer the option to put your name and number on your motocross jersey. Pick one of the many jerseys available in our webshop and add this service to the shopping cart for a name and number print. The print service can only be used in combination with:
Motocross jerseys
Motocross gear combos
We offer a lot of different styles and color options so you can always pick shirt-printing that suits your style. Top quality printing is ensured by using the best materials and technique.
Example: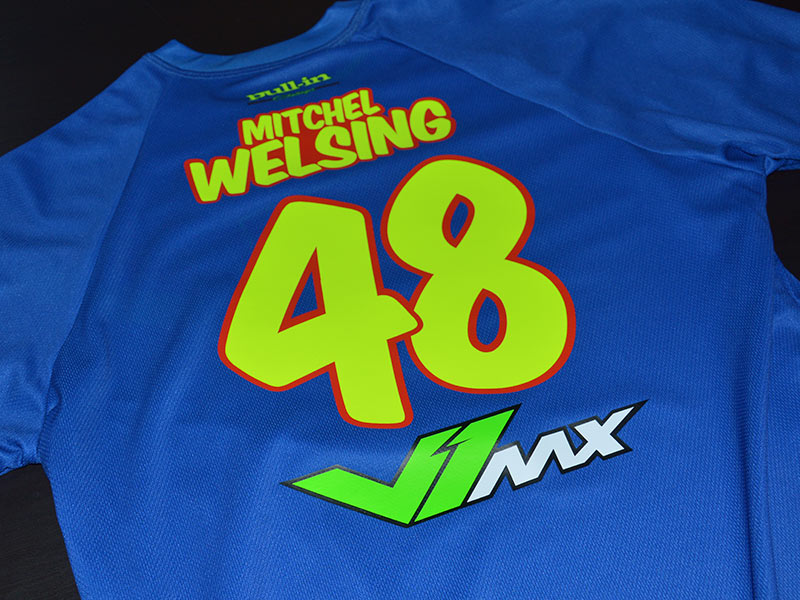 The advantages of ordering printed jerseys at V1mx:
Many colors to choose from.
Good quality name and number print because we use only the best materials and technique.
Lowest price in the market
Fast delivery because you buy and print a mx jersey at once!
Want multiple jerseys printed?
In case you want multiple jerseys printed you can let us know which print belongs to which jersey in the comments section of the check-out page.
Disclaimer:
Printed jerseys can't be returned.
Colors on monitors can diverge from each other. Therefore the colors on a monitor might look different than the real colors of the print.
The shown number and name on this page serve only as an example. The design and size of the print might change due to the large variation in name and number sizes. The V1mx designer will print the jersey at its discretion.
V1mx is not responsible for any misspellings.
Printing service can only be used on jerseys and gear combos which can be bought in the webshop of V1mx.
You must follow the washing instruction in order make sure the product will stay as good as possible.