Samco Sport Hose Clamps - KTM Freeride350
This is a high performance SamcoSport hose clamp kit which replaces your standard factory hose clamps with the highest quality stainless steel worm drive hose clamps available. These hose clamps are entirely made from marine-grade 304 W5 stainless steel and have a 13mm wide band which increases their clamping force.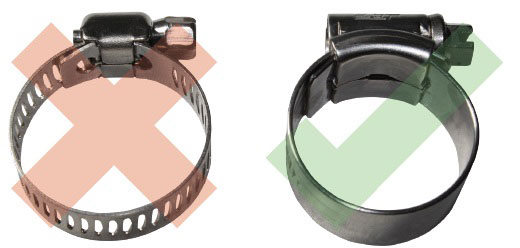 Many motorcycle manufacturers fit low grade stainless or zinc plated mild steel hose clamps as standard. Many of these clamps have a slotted band design that feature stamped out 'slots' for the adjuster screw to grip on to. The slotted band hose clamp is not recommended for use with Samco Sport silicone hoses, as they will damage the outer layer of the silicone and will compromise the integrity of the hose and void Samco's Warranty.
Samco Sport strongly recommend the use of Samco's own range of hose clamps, which provide quality fastening of the hose to the connection with zero damage, even in the most extreme circumstances.
Using a slotted band hose clamp, like those provided with most OEM bikes, can result in severe problems (as pictured). When a clamp has been tightened to the point that the silicone is feeding through the slots, multiple weak points are made in the silicone, thus jeopardizing the benefits of the silicone hose. The last thing you need when riding your motorcycle is coolant leaking from a damaged hose. Prevent major problems by fitting the correct type of hose clamp to your Samco Sport silicone hoses.
| Brand | Model | Years |
| --- | --- | --- |
| KTM | Freeride 350 | 2013 - 2016 |