Accuri Technical Features
The frame of the 100% Accuri has a curved design so it fits well on the face of the rider. In addition, the curved lens provides a large viewing angle, giving you more insight into what is happening around you. The lens is made of Lexan which has gone through an anti-scratch and anti-fog treatment. The lens is secured with 9 retention pins so that the lenses are well fixed and offers maximum protection. Furthermore, it has 3 layers of facial foam with a comfortable moisture-wicking layer and a 45mm with silicone for good attachment on the motocross helmet.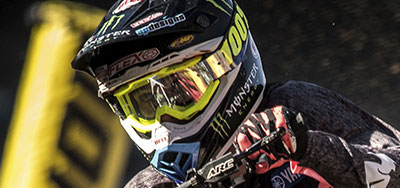 A great feature of the 100% motocross goggles is that most of accessories such as lenses and tear-offs can be used on all 3 models. This way you can easily exchange parts between your own goggles or with your riding companions. 100% has recently also introduced an Accuri with pre-installed roll-off system. By buying a motocross goggle with roll-off you are ready to defy muddy conditions. A complete overview with all 100% motocross goggles accessories can be found in our webshop.

Accuri Lenses
100% has a wide range of lenses available for these goggles. The lenses are designed to provide maximum performance and protection to the motocross rider. It uses a 9-pin retention system for rigid assembly and also has excellent anti-fog properties. Each tint has its own specific characteristics and advantages, so the Accuri can easily be adapted to the driving condition and preference of the rider. Due to our large stock, the 100% lenses are almost always ready for immediate shipment.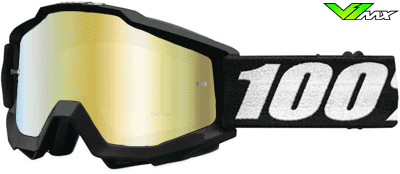 The Accuri motocross goggle is also available in a youth version. This has a smaller frame to fit well on smaller motocross helmets. The youth version can be found at the 100% kids section of our webshop.
Are you looking for a motocross goggle, buy still have a question? Feel free to contact V1mx. We will be happy to assist you in choosing the right motocross gear. Because of our large range there is always a goggle that meets your requirements.