Airoh Aviator 2.3 AMSS Motocross Helmet - Great Blue Gloss
This is the newest innovation Airoh Motocross helmet and is equipped with all leading-edge technologies making this model a one-of-a-kind product in the world. The Airoh Aviator 2.3 reaches the best levels of comfort, breathability and protection even under the most extreme situations. Airoh is proud to offer consumers a product that is exactly identical to the version used by its champions.
Technical Features of the Airoh Aviator 2.3 motocross helmet:
Equipped with Airoh AMS² rotational damping system
Multiple density foam inner shell for optimal rider protection
Weight of 1070 grams (small shell size)
Carbon and Kevlar composite shell material
Three external shell sizes
Helmet interior anatomically designed
Painted and UV-coated outer shell
Removable nose protection
New peak design offering more strength and durability
Adjustable peak with spoiler, featuring two different lengths
Aluminium double D-ring retention system
Homologations: ECE 22.05
Video
The video below explains the advanced features of the Aviator 2.3
Airoh AMS²
The new Airoh AMS2 system is an advanced multi action damping system that protects riders against a wide variety of impacts. The foam inner shell is made of two different densities, which protects against low and high energy impacts. The shells allow a spherical relative movement. Many elastomer elements between the shells dampen rotations, which reduces the chance of brain injury.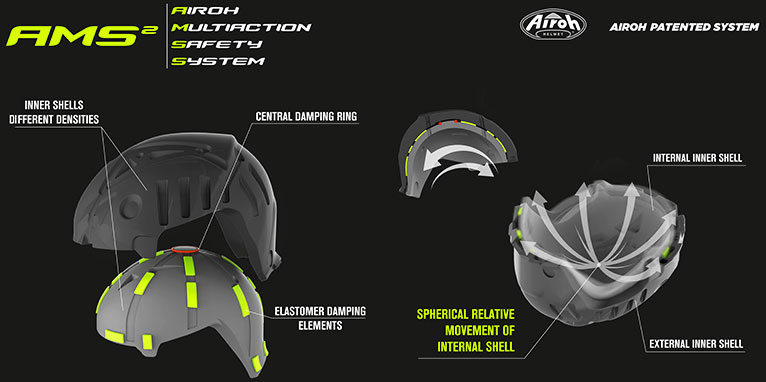 External Shell
The Airoh Aviator 2.3 AMS², the champion helmet with which Airoh® has soared to the top spot of the podium in off-road disciplines, reaching the sports headlines. The helmet is available in three different shell sizes and is made with quality materials, 100% Carbon Kevlar, making it one of the best performing helmets of its class. The Airoh Aviator 2.3 AMS² is designed for pros and lovers of adrenaline fuelled off-road rides who are looking for to hit dusty and muddy roads with absolutely no concerns. The strengths in this new version are the lightness, which is implemented further, the expanded field of vision, the new vent chin guard, the new AMS protection system.
Accessories
The Airoh Aviator 2.3 includes the following accessories :
Kit go pro
Upper vent cover
Extended peak
Screws set
Airoh logos
Winter kit
Airoh helmet bag
Ventilation and Inner Lining
Great care has been taken for the interior that has been manufactured and designed with the latest materials. This ensures optimal ventilation and breathability for those who practice sport at the highest competitive levels. Aviator 2.3 is equipped with a dust filter, which will prove a good ally during your days off-road and the emergency system for the release of cheek pads (AEFR).
Internal features:
Inner liner with high transpiring netting inserts
Removable/ washable liner
Removable/washable cheek pads with EMERGENCY SYSTEM AEFR (Airoh Emergency Fast Remove)
Inner fabrics in microfibre subjected to 2 Dry treatments
BULPREN mesh filter for maximum levels of air-filtration and ventilation
The Airoh Aviator 2.3 Ventilation System features:
2 Front vents
Upper rear air extractor/spoiler
3 Chin guard air intakes with protective mesh and removable dirt sponge
2 Upper air flow vents with removable covers
Lower rear air extractor